Perth yogi Rosanna Susanto is the brains (& bendiness) behind Nedlands studio Bodyscape Yoga. Finding her groove providing Corporate Wellness programs, Rosanna started Bodyscape Yoga three years ago, opening her busy Nedlands studio late last year. Rosanna is one of those people who seems to be able find common ground with anyone. Her eyes light up talking about yoga, work, family, food - she's genuinely engaged and present in any given conversation, which is probably a key factor in the dedicated following she already has at Bodyscape. Rosanna shares why she loves yoga, her food philosophy, and her hit list of where to eat in Perth...
You started your professional life as a lawyer. Now you teach yoga to lawyers and others who still work in the corporate sphere. How did this role swap come about?
'Role swap' - that's an interesting way to put it. I never meant to teach lawyers, but it all happened during one my lunch breaks. I came across a pop-up yoga store, right in the middle of the Perth CBD. I was instantly hooked by this thing called yoga. I remember some days I'd forget my runners, so I had to walk down St George's Tce in my activewear and heels - it never occurred to me to go barefoot! If it happened now, I'd just lose the shoes altogether.
Most of my corporate clients have been with me since I started teaching and I can sense how the employees are happier and more productive because they've got something to look forward to in the week. It's is super important to have this time out in the work week, especially when stress plays a major factor in mental health and wellbeing. My corporate clients have come mostly through word of mouth and referrals. It's so beautiful to simply share this wonderful gift of yoga with a wider audience, not just the people who come to the yoga studio.
You seem to love your job! What makes you excited about coming to work each day?
You're right, I really do love my job! What I love isn't just the yoga that we all think about as the breathing and the stretching and the downdog, but actually it's the stuff that happens before and after that.
I love hearing about what's going on in everyone's lives. A new student comes in and at that point I have that power to make a connection with them. I make the effort to get to know who they are, not simply what they do. I get to listen their stories about what or who is on their minds, home happenings, why they decided to show up and at the end of class (in all that vulnerability) they tell me how they feel – their deepest driving desires, their insecurities and sometimes even their darkest memories that may have been been pushed back but are now resurfacing.
The alchemy works together as a whole and I am so grateful to have this opportunity to participate in life this way, every single day.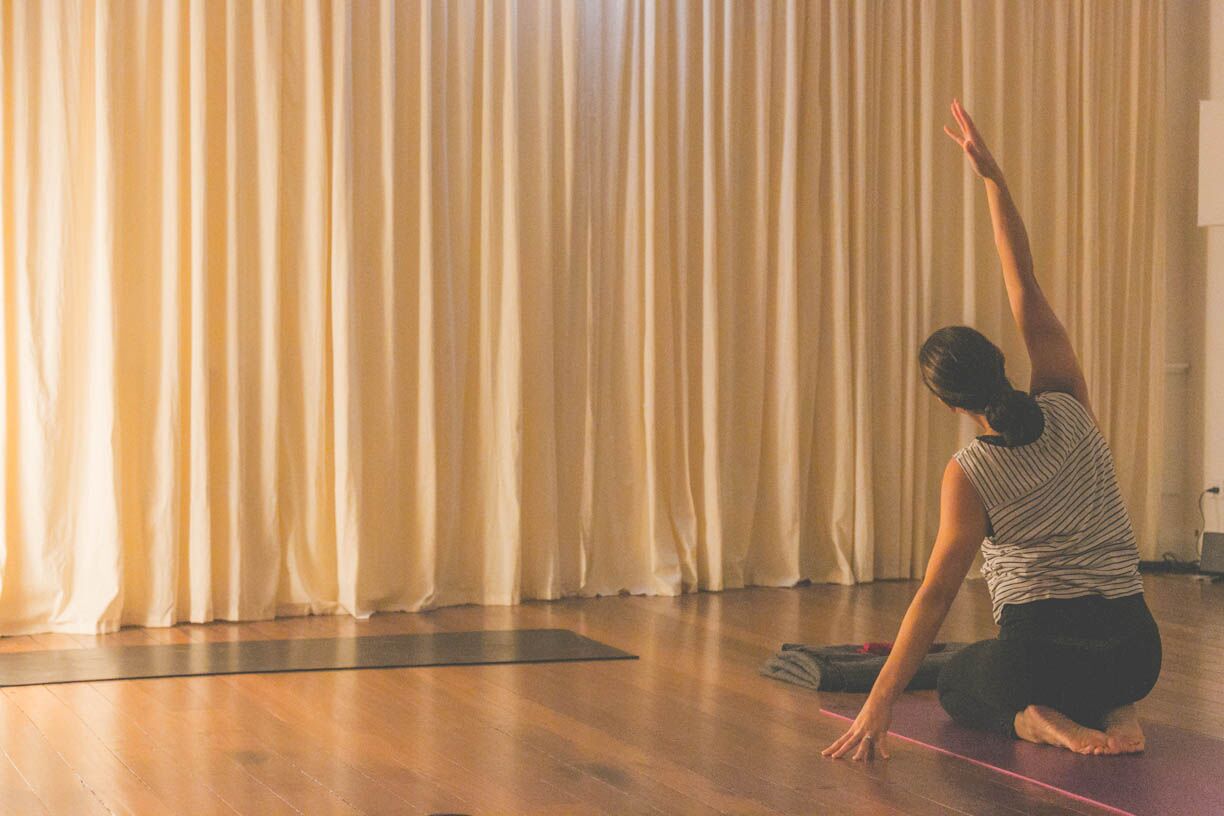 Having practiced in some of your classes, it feels like 'fun' is central to your teaching style. How would you describe your sense of humour, and why do you think having fun is important?
Oh thanks! Yoga should definitely be fun! From time to time, it's easy to slip into taking life too seriously. My dad does. And I think from growing up and just living, I've developed this innate ability to find ways to see the positive side of things. One of my most inspiring teachers, Deb Langley, said, "as yogis it's not our job to judge the darkness; it's our duty to hold the light and the joy." I take this so wholeheartedly in how I offer my teachings because I know that we're all going through something.
Mindfulness is at the heart of yoga. How do you bring mindfulness out of the studio and into your everyday life?
You know from coming to my classes that I always remind my students - on the mat is where we learn the tools we need to practice our yoga outside the studio. In any given moment, how can I bring joy or be present, considerate, understanding, accepting, or all of these things at the same time! So I try to practice mindfulness with how I communicate, when I eat, and especially in the bigger picture of how to deal with challenging situations.
How would you describe your food philosophy?
Balanced.
Sweets are my thing for sure, but I know they aren't sustainable and nourishing. For my soul – for sure, but for my body – not so much. I'm very conscious of what I choose to put into my body and so if I've had a treat of something sweet, I know that I need to balance it out with real fuel. I'm not vegetarian or vegan and as a yoga teacher I get asked about that a lot. However, I've started cutting back a lot on red meat because I feel it takes a lot of energy in my body to digest, whereas other proteins (including vegetables) are much lighter.
All in all, I really enjoy food and especially after finishing a juice cleanse, I am making more conscious choices based on what it will offer me. You know, I really love cheese toasties! The heat, the crunch, the taste. But really, it's not going to give me what I need in terms of sustenance, nutrition, energy. So I'll opt for something lighter and whole, with greens that'll actually help me get through my long days! See my top 3 favourite spots to fuel up below.
Obviously someone who moves as much as you do for a living needs to refuel regularly. What are your 3 favourite spots to eat at the moment?
Duotone / East Perth / Everything is a delight here, especially their matcha lattes.
Chu Bakery / Highgate / Their avocado, whipped fetta, chilli toast is amazing!
Good Things Café / Mosman Park / I know everything is tasty and fresh.
How important do you think community is to the success of your business?
Very! Community makes Bodyscape Yoga what it is. People come and go, but this space for connection has been created by all the other teachers and students, and that means there is always room to get to know someone like-minded, someone to share your thoughts with. For a lot of people, Bodyscape Yoga has become their second home and it's a great honour to hold a space like this.
Finally, if you could leave your students with one takeaway thought, what would it be?
Do your best in any given situation, it'll pay off.